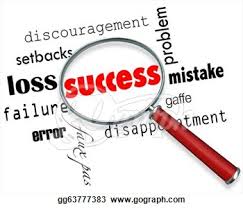 "I've missed more than 9000 shots in my career. I've lost almost 300 games. 26 times, I've been trusted to take the game winning shot and missed. I've failed over and over and over again in my life. And that is why I succeed" – Michael Jordan
The quote above is a ringing endorsement for the benefits of failure from one of the greatest athletes and business men on the planet. In life failure is inevitable. Everyone fails at some time or another.   Every successful person you know has experienced both achievement and failure on their way to the top. The difference between them and the rest of us is that they view failure through a different lens. They view failure as a sign that they need to make adjustments in order to achieve their goals.   Failure doesn't define, destroy, or diminish them.
It's easy to let obstacles or setbacks derail your ambition, but changing your perspective about failure can lead to future success. The next time you experience failure – and there will be a next time – consider these four strategies to help use failure as fuel to power you towards improvement, discovery and growth!
Reframe failure. Don't view failure as a negative outcome. Instead, recognize it as a valuable experience, and a part of the learning process. When failure occurs examine areas that need to be developed, improved on, or adjusted. Ask yourself these questions: What can I learn from this experience? How can I use what I've learned? By taking these steps you can decide what you need to work on to propel you to the next level. For instance, a basketball player who missed his free throws during the game might ask these questions, and realize: after missing the free throws I lost focus during the rest of the game and it caused me to make mental mistakes that hurt my team. This leads to the acknowledgement, I lose focus during when I'm anxious about messing up. These insights become the basis for a plan for continuous improvement and achievement.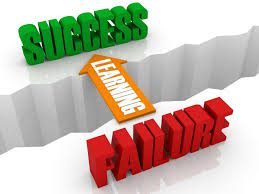 Identify strengths. Few situations are completely negative or completely positive, but in the face of failure most people have a tendency to focus on the negative aspects of the situation. Identifying strengths in the face of adversity allows you to override this tendency.  If you tried – no matter what the outcome – that means that you believed that you have what it takes.   Reflect on the experience and recall aspects that were positive, or recall how your strengths helped you. Stephen Curry, 2014 -2015 NBA MVP of the Champion Golden State Warriors, has encountered his fair share of failure on the way to the top prize in professional basketball.  Overlooked as a senior in high school by well-known coaches from marquee basketball programs, he eventually went to Davidson College, a small school in Davidson, North Carolina. His college coach Bob McKillop remarked that "he had no fear of failure, if he missed a shot, missed five shots, he didn't care. It didn't disrupt him. It didn't destroy his focus. He knew he was going to make the next five."  In spite of being overlooked, ignored, and underestimated, Curry built on his strengths: his punishing 3-point shot, his work ethic, his confidence and quest for excellence. His strengths are aspects of his game that have continued to improve over the course of his career and have also contributed to his success.
Assess the outcome accurately and objectively. People often give up after a failure because they attribute the failure to internal factors. I'm too small, they tell themselves, or I'll never win. Internalizing failure is destructive in so many ways. Don't let failure define you. Failure is an event, not a person. In order to view failure this way it is extremely important to accurately and objectively assess the circumstances. Accuracy and objectivity are important for two reasons. First, accurately assessing causes for the outcome reduces the likelihood of repeating the behaviors that led to the failure. Secondly, objectively identifying all potential factors that led to the outcome – internal and external, allows a person to make a solid plan for improvement without destroying self-confidence, motivation and hope.
Accept and move on quickly. Failure can feel like a knockout punch from a heavy weight champ! Not only does it hurt, it can hurt for a long time. When we are knocked down or fall short of our goal, after investing large amounts of physical, mental and emotional energy, doubt can creep in and linger. Yet the story of Michael Jordan, arguably one of the greatest basketball players of all time, is a testament to the importance of 'moving on' quickly in the face of failure. As a sophomore in high school, Jordan failed to make the varsity team. The story is often told that he when he found out that he didn't make the team he went home and cried – and then established a game plan to become the greatest basketball player in Eastern North Carolina, and eventually the world. In spite of his success as a professional athlete MJ gives credit to the failures, and the knockouts that he experienced during his storied career as a critical part of the reason for his success. Instead of worrying about the failure, and allowing it to crush him, he decided to work on what he could control: his effort, developing his skills and his attitude. Jordan went on to win a NCAA Championship during his three years at North Carolina, 6 NBA titles with the Chicago Bulls, he earned 5 MVP awards, multiple All-Star appearances and 2 Olympic gold medals.
Champions in every field succeed because they have failed. The next time you are faced with failure, remember that it holds the key to your success! Train yourself to think of failure as a part of the process. Learn from your mistakes. Identify your strengths, assess the outcome accurately and objectively, and make a plan of action to try again. Whatever you do resist the urge to dwell on the failure and feel sorry for yourself. It's counterproductive, and will get in the way of the greatness that lies within you!
Stephany C. Coakley, PhD, LPC
Director/Founder – Maximum Mental Training Associates
Mental Strength and Conditioning Coach